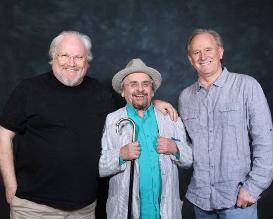 Meet the Doctors; Colin Baker, Sylvester McCoy & Peter Davison!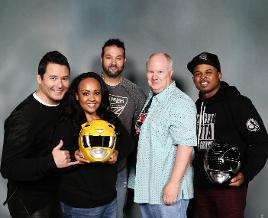 Celebrate the 25th Anniversary of Mighty Morphin Power Rangers by having Johnny, Yong Bosch, Karan Ashley, Austin St. John, David J. Fielding & Walter Jones at your 2018 event!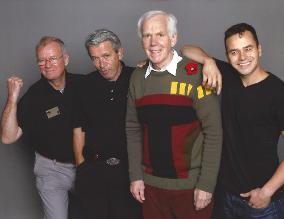 Have a Boba Fest with the many incarnations of Boba Fett; John Morton, Dickey Beer, Jeremy Bulloch & Daniel Logan!

Galactic Productions, LLC has been booking celebrities around the world since 2006. We represent many of your favorite actors and actresses from Anime, Battlestar Galactica, Buffy the Vampire Slayer, Cartoons, Doctor Who, Nickelodeon, Power Rangers, Star Trek, Star Wars, TRON & more...!
***

If you're interested in booking one of our iconic clients to your next event click the 'Contact' page for details.
***
Endorsements:
***

"I love working with Zach's team! He has some amazing guys and I am so happy I'm a part of Galactic Productions."
Karan Ashley- Actress, Aisha the Yellow Ranger of Mighty Morphin Power Rangers
***

"Zach thinks of everything. When you're an alien in a strange land it is comforting to know that Zach has all the angles covered from the moment you step off the plane. Good communication, good organization and when anything hits the fan (or vise versa)- he's there. And what's more - the promoters all like him too - and that helps a whole lot! Can't ask for more. All he needs is a decent haircut and he'd get 100%."

Colin Baker- Actor, the Sixth Doctor of Doctor Who
***

"Zach, is a real Pro. He is personable and efficient, I always feel my interests and well being are in good hands . Zach helped make Denver's first Comic Con an enjoyable and lucrative experience for me."
Bruce Boxleitner- Actor, TRON
***

"It's always a pleasure to work with Zachery and his team - I appreciate his very professional approach - he is always on hand to sort out any problem."
Jeremy Bulloch- Actor, Boba Fett of Star Wars
***

"From the first moment I spoke with Zach about booking Peter Mayhew for our inaugural convention, he was not only helpful, but more importantly honest and friendly. I never felt that Zach was out for himself – he truly cares about the success of both his clients and the promoter. We ended up booking many guests through Galactic Productions and we had no issues. Zach could not have made the process more simple or been more professional. I feel confident in saying that with Zach's help, Pensacon 2014 would not have been the success that it was and I look forward to working with Galactic Productions for years to come."
Mike Ensley- Promoter, Pensacon
***

"Zachery McGinnis is not only a great man to do business with, he goes above and beyond what is ever expected of him. Some guests he has recommended, that I may have been hesitant or skeptical about bringing to our event, I have consistently found myself being pleasantly surprised in taking his advice. He not only comes to SLCC with his clients, he jumps right in and helps with the event in any way he can without hesitation. He is not only a colleague, he is a good friend and I truly appreciate everything he does."
Dan Farr- Promoter, Salt Lake Comic Con
***

"I've been working with Galactic Productions for just over a year and their support, advice and professionalism is second to none. They've been around the convention scene for years and know how it works. That said they are also amendable to do things the way their clients may prefer and are helpful to the promoter.
My appearances are always well organized and everyone has fun"
Brian Herring- Puppeteer, BB-8 of Star Wars
***

"I have worked with Zach many times. From negotiations, to travel arrangements, to interfacing with the show promoters, he has never failed to take care of details big and small. Zach has made every Convention a pleasure to attend, but he never forgets that underneath all the quirky and fun aspects of these events, it is a business... And he treats it as such."
Tom Kane- Voice Actor, Yoda of Star Wars
***

"ZMcG understands TCB! My business interactions with Zachery McGinnis have been top notch! He takes care of the talent AND takes care of the fans. Everybody wins!"
Tom Kenny- Voice Actor, SpongeBob of SpongeBob Square Pants
***

"I'm very satisfied with Zach McGinnis's work representing me in business affairs involving guesting at conventions and other personal appearances. I have found him to be very professional in his dealings and completely reliable."
Walter Koenig- Actor, Chekov of Star Trek
***

"No stress. No confusion. They do what they say they are going to do. They are very informative about cons. Satisfaction with every booking. If you are an actor or pop icon looking to get into Cons look no further then Galactic."

Kel Mitchell- Actor, Good Burger, All That, Kenan & Kel, Mastery Men & Game Shakers
***

"After I worked with Galactic Productions, I said yep, that's how it should be."

Nichelle Nichols- Actress, Uhura of Star Trek
***

"Zach is always very prepared and we never have any surprises with his clients. Running a convention can be very unpredictable, which is why it's so important to work with reliable people like Zach."

Ben Penrod- Promoter, Awesome Con D.C.
***

"Far far away in the Galaxy there was Galactic Productions and Deep Roy. Their Force's merged and ever since then the Force has been strong with us."
Deep Roy- Actor, Yoda of Star Wars
***

"I have worked with Zachery for years and every experience has been first class. Doesn't hurt that he's adorable."

Marina Sirtis- Actress, Counselor Troi of Star Trek The Next Generation
***

"Having dealt with talent agents since 2002 it's always refreshing to come across someone who makes my life as an Event Director easier, not harder. Zachery, in all my dealings with him, has been rock-solid professionally, honest, easy to reach, quick to respond and a good communicator. I have no hesitation in doing business with him or recommending others to do so either."

Daniel Zachariou- Promoter, Supanova
***